Welcome!
We are a stock photography source with nearly 5000 images of fishing action, boating and coastal wildlife—above and below the water. See the MAIN GALLERY below or Image Categories to the left. Each photo is licensed for rights-managed, non-exclusive use (users must get permission and pay an agreed-upon fee). Images delivered by email, FTP or on disk. You can save your favorite images to the lightbox when you log in. Fill out the image request form or email me and I'll get back with you ASAP to discuss usage fees.
Seafavorites Fishing Guide Service
. . . guided fishing, nature and scallop trips from Cedar Key to Steinhatchee, Florida. See Fishing Guide Service link (in the bar above) for more information.
NEW BOOK — The Kingfish Bible: New Revelations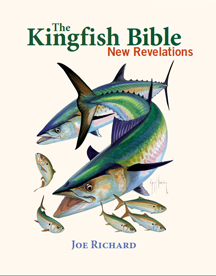 BY JOE RICHARD: This is a revised 2nd edition of the first Kingfish Bible, published in 1994. Ten new chapters and 180 pages of color photos now cover all aspects of pursuing and catching king mackerel in the Gulf of Mexico, Atlantic and Caribbean. A total of eighteen chapters includes tournament adventures, kingfish tackle, live and artificial baits, chumming, kite fishing, kayaking for kings and even spearfishing giant Pacific kings off Australia.