Thank you for visiting
Seafavorites.com
. We are a stock photography source with nearly 5000 images of fishing action, boating and coastal wildlife—above and below the water. See the MAIN GALLERY below or Image Categories to the left. Each photo is licensed for rights-managed, non-exclusive use (users must get permission and pay an agreed-upon fee). Images delivered by email, FTP or on disk. You can save your favorite images to the lightbox when you log in. Fill out the image request form or email me and I'll get back with you ASAP to discuss usage fees.
Thanks for visiting, Joe Richard
It's here!
The Kingfish Bible: New Revelations by Joe Richard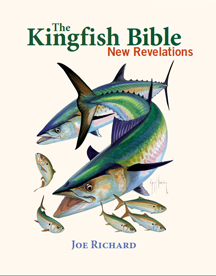 Our new book, hot off the press is a revised and updated 2nd edition of the first Kingfish Bible, published in 1994. Ten new chapters and 200 pages of color photos now cover all aspects of pursuing and catching king mackerel in the Gulf of Mexico, Atlantic and Caribbean. A total of eighteen chapters includes tournament adventures, kingfish tackle, live and artificial baits, chumming, kite fishing, kayaking for kings and even spearfishing giant Pacific kings off Australia.

Printed in the United States. Published by Seafavorites Press. copyright 2014 by Joe Richard
Size: 7.6" x 10.75", 200 pages with all color photos
$45 plus $5 for S&H.
Only available from Seafavorites Press.

Praise for The Kingfish Bible: New Revelations
"The Kingfish Bible is much more than a work revealing how and where to catch king mackerel. It's a Nantucket sleigh-ride of brutally honest, hard-won, often darkly funny, and always—always—entertaining and enlightening insights into a life spent chasing this most electrifying of marine game fish. Combine the hard-won, got-the-scars-to-prove-it insights of more than 40 years' experience chasing and studying king mackerel with a savagely honest, wickedly funny, I-can't-believe-he-said-that writing style, and you have The Kingfish Bible." —Shannon Tompkins, Houston Chronicle
"When I see the word 'bible' in the title of a fishing book I usually feel embarrassed for the author's hubris. Except when the book is about king mackerel, and the author is Joe Richard. These chapters are scripture taken from a life lived worshipping at the kingfish altar. It's the true Good Book for the sport, one that will not only show anglers the true path to follow in seeking this great fish, but will also provide wisdom for years to come." —Bob Marshall, The Times Picayune (New Orleans)
"The Kingfish Bible: New Revelations is emblematic of the very reason Joe Richard was my number-one, go-to guy for articles on fishing for kings along the Gulf Coast. The final chapter, 'Drive,' is worth the price of the book in itself, and was one of the best and grittiest adventure stories ever published in Salt Water Sportsman magazine." —Barry Gibson, Editor, Salt Water Sportsman (1982-2004)